Welcome to Warm Home Malta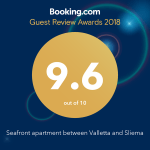 We are very greatful to your feedback and reviews in 2018. In this year we make cozier and more comfortable our accommodations and broaden our range of services. 
We are pleased to show you what you can get from us, as your hosts of Warm Home Malta. Our mission to make as comfortable and unforgettable your staying in Malta as we can do. Therefore we offer you self-catered accommodations and special leisure activities.
Those who want to relax in a stylish designed home we offer 3 beautiful bedrooms, a huge common living and kitchen area – all very close to the seafront in Gzira.  
Those who want to enjoy this colorful island in colorful rooms designed in youngish style, we offer a villa with 4 bedrooms in Swieqi, very close to Paceville, St Julian's (and also the sea). 
Those who want to have privacy in a modern, still original maltese style home,  we offer a 2 bedroom seafront apartment with a view to the Msida marina and the promenade. 
Those who want to enjoy the comfort of a modern flat in a traditional Maltese style house  with a side sea view, 1 corner from the marina. Most lively area of Msida. 
Those who want to enjoy the luxurious life in a big residence home in the heart of St Julian's, 300 meters away from Spinola Bay. Quiet area next to the promenade, restaurants and bars. 
Those who want to relax in elegant conditions,  we offer a 2 bedroom luxurious, huge penthouse. From the enormous terrace you can enjoy the view of the sea and the big church. 
The hosts were very friendly, helpful and correct. The location of the apartment is amazing, in the downtown, just in front of the yacht marina, so from the balcony you can watch all boats and yachts anchored at the marina. The apartment is clean with new furniture, new bathrooms, new paint and new tiles.
Very nice hosts, and big and clean apartment. It's well connected with the bus and it's possible to go walking both La Valletta and Sliema.
Mark and Szilvia were excellent, very helpful. The apartment was nice and clean, beds confortable.
Great location, a 30 min walking from Valleta. Huge apartment with 2bathrooms. Great for family or 2 couples. A lot of oportunities in the kitchen. Great hosts.