You can rarely find a place, where hot summer days do not finish with bustling nightlife. It's true especially in the countries of the south. Malta is not an exception. When night starts falling and the heat of the day is slowly dropping to tolerable, you can watch the streets come to life. By the time the sun goes down you can hardly find a seat in the beach restaurants or cafés.
If you fancy diving into the nightlife of this exciting island, Malta has truly a lot to offer. Not surprisingly, bars and clubs lead the hot spot list. Those who long for something more moderate or cultural will not disappoint, either. Besides the scores of popular night clubs and authentic quartier bars there are many first-rate or lovely, familiar restaurants and excellent wine bars to try.
Are you ready for a short guided tour in the bustling Maltese night? Either it is clubbing, having a drink or dining out we have some ideas up our sleeve. Let's start with the most popular party hubs!
Paceville, St Julians and Sliema
If you want to taste the island's nightlife, Paceville is definitely the number one place you must visit. Due to the abundant amount of night clubs, bars, discos and casinos, this area is the district of parties. You do not have to wander around long in order to find a perfect place that keeps you dancing all night. Or just explore a bohemian-style bar to order every single cocktail on the menu. Drink one after the other while trying to maintain a conversation with some fellow guests by the counter struggling to speak louder than the music.
Paceville rather attracts students and the younger generations. The range of the entertainment venues in other areas of St Julians look more diverse. In Sliema the atmospheric wine bars, British pubs and café bars tucked away in corners serving exotic drinks and unique local tipples.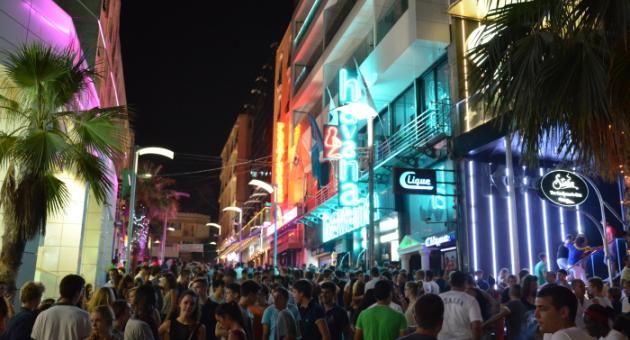 Nightlife tour
For playing safe, join Malta Pub Crawl for a nightlife tour. These organised pub crawls usually begin at a rooftop bar and end in one of the most crowded nighclubs. And if you are open to try a really terrific clubbing experience, book a ticket for a boat party! During the high season a few company operate party boats at the weekends departing from Sliema at night and coming with open bar and food. Great craic is always guaranteed!
Buggiba and surroundings
On the other part of the island Buggiba, Qawra and St Paul's Bay form the main centre of the northern nightlife. Besides the more than enough eating and drinking establishments to choose from when you are looking for just the right place to begin the evening, you can find plenty of sports bars and other rowdy venues promising a crazy night out when you go bar-hunting later. Longing for a typical fish and chips dinner? Try the traditional pubs out! And a good news in the end. For being one of the most popular touristic areas of the island you can expect quite reasonable prices here.
Valletta
The Maltese capital is surely the island's place to be in every respect. Since it has a unique vibe anyway, a pleasant night walk along the waterfront with admiring the amazing view over the illuminated harbour and the Three Cities from the Upper Barakka gardens can be a fantastic program for the night in itself, without even going partying later. And do not skip the old town at night. Roaming up and down the stairs of the ancient city's charming narrow streets  may remain one of the most memorable experience of your trip.
As for clubbing and drinking Valletta offers a vast variety of options to choose from. Authentic pubs, live music, wine or cocktail bars, hotspots to rock out. You name it, you find it! However, spending a night out in the capital is a good chance to have an insight rather into the local way of entertainment. The majority of the bars are not aimed towards tourists. That does not mean, though, that you cannot have a great time, especially if you are a jazz lover.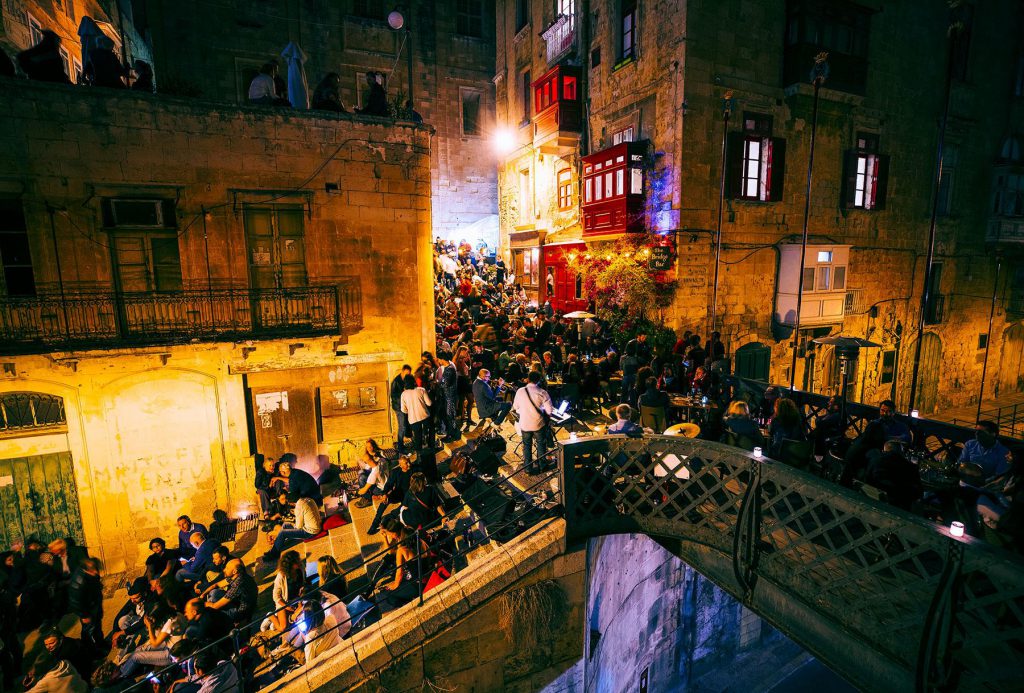 Jazzy nightlife
Apart from a few trendy jazz bars, during the summer months, every Friday night the Bridge Bar awaits you with live jazz and blues played in the street. There are also pillows on the steps in order you should enjoy the music comfortably sitting outside with a drink. If your idea about a cool night out is a bit wilder you can still visit Hard Rock Bar Malta. It's a cozy little bar where you can perfectly unwind and you can have the best burgers in town.
Finally, if you are looking for a rather romantic spot, Valetta waterfront is the right place for you. This picturesque promenade abounds in pubs and bars that suit different ages and tastes. It has a true dining palette of quality value-for money restaurants, specialized for different national cuisines.
Other places
Wine bars are growing more popular in Malta. These cozy catering spots do not only serve wines but are eateries as well, offering greatdining options. Birgu, Mdina and Rabat are the best choices for wine tasting. Numerous other towns, such as Qormi, Naxxar and Mosta also host excellent wine bars attracting more visitors.
So have a great bar-hopping, wherever you stay in Malta and enjoy your nightlife!