When I first visited Gozo it was November. With the sweaty hot Mediterranean summer far behind and only a few local people on the sleepy streets the island looked truly idyllic and not even a bit touristy. Later on I have had other occasions to return but Gozo each times seemed to be as it was at first sight. A place where it was as though time had stood still. I was deeply touched by its natural wonders and whilst roaming the island I discovered Xlendi. Later I explored numerous hidden gems and many little secret places most of the tourists leave out of their programs.
If you fancy adding unique spots to your itinerary, feel free to select some of the secrets of Gozo. So put your hiking boots up and hit the road!
Secrets of Xlendi
Astonishingly sited at the mouth of a deep ravine with a collection of colorful boats nestling in the bay and quite a bustling beachfront promenade. The charming, former fishing village of Xlendi is definitely one of the most popular place amongst locals and tourists alike. However, the hiking trails leading to many stunning spots in the area look far less known. They worth the visit as much as the village itself.
There are two scenic valleys awaiting you within a short walk from Xlendi. Both routes leading there are a true paradise for walkers. One of those picturesque trails brings you to Lunzjata Valley.  That was once served as a hunting area for the Knights of Malta. Today you only come across local farmers… The valley is home to a 16th century chapel. That one is one of the oldest on the island and originally built to serve local farmers. The view of this small edifice dugs out of a huge piece of rock. Together with the typical rural Gozitan scenery can offer you a perfect spot for morning meditation.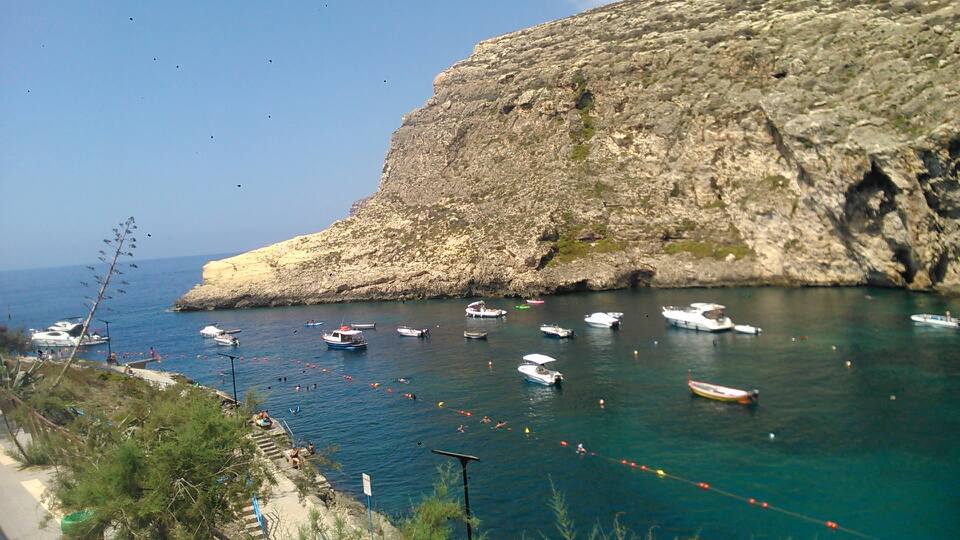 Roaming around Xlendi
Taking the other trail and passing Kantra Valley, you will arrive to the top of the stunning Saguna Cliffs. Leaving Xlendi you at first walk along a lovely creek then cross an ancient stone bridge built by the Knights of Saint John. The last spot that makes you interrupt your way for a while. There is a 17th century coastal watchtower guarding the bay. From there it does not take long to reach the rugged cliffs of Saguna. In the morning you are awarded a breathtaking sea view in the sparkling sunshine, while at twilight, an amazing sunset.
Should you are still energetic enough to continue walking, the coastal path leads you all the way to Ta' Cenc Cliffs at Sannat. Another incredible coastline with steep and rugged cliffs rising from sea level to a height of 120 m. After taking postcard-like shots, you can opt for an inland route back to Xlendi. Explore some of the archeological heritage sites Gozo boasts of. Some of them such as Borg I-Imramma, the remains of an Mgarr phase megalithic temple requires a short detour but it may worth visiting.
If you feel lazy for going hiking on a hot summer day but you would do something more interesting than just lying on the beach, though, a short walk to a tiny hidden cave could be a perfect idea. Take the walkway starting by Boathouse Restaurant and leading at first uphill until you reach the cliff's edge. Enjoy the panoramic view of the bay and do not miss to take some iconic photos! Then the rocky staircase start descending all the way to a miniature, romantic cave. Make sure to wear proper shoes as the rocks are quite slippery. Do not expect to be able to swim there, it is rather a relaxing point. Take your time staying for a while in the shadow of the rocks, appreciate the fresh breeze and listen to the monotone sound of the sea waves. Can you imagine a better start for your day?